Design & peer review
Hydraulic and Electrical Design & Peer review of mechanical design.
Benefits:
Intelligent design allowed a demand intensive laboratory to exist within a standard commercial building.
The design removed the risk to the building or other tenants' operations.
Impact of the non-standard tenancy on the base building NABERS rating was minimised.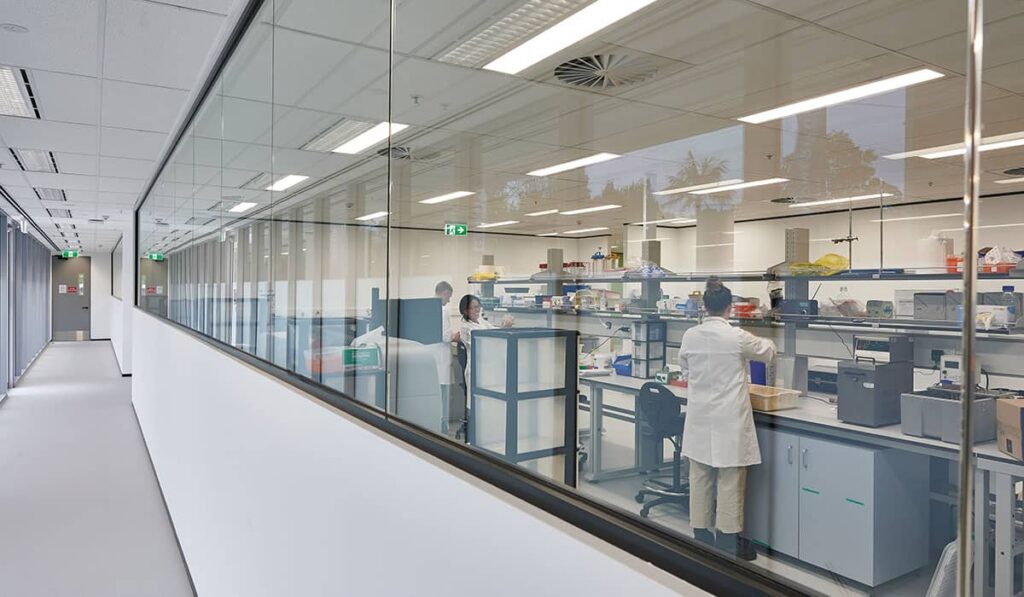 Project overview
Design Construction Group, PMG, engaged Nutbrook Group to assist them in a delicate project at 2 Richardson Place, Sydney. The project involved preparing the new premises for healthcare provider, bioMérieux Australia.
The nature of bioMérieux's operations meant it had complex needs associated with the new site. We were selected to provide the hydraulic and electrical design for the fit out, as well as completing a base building peer review on the mechanical design for the site owners.
bioMérieux required their new premises to contain a PC2-rated laboratory, office space and a warehouse. The fact that the new premises was located inside an existing commercial buiding presented some unique challenges for our team.
Specific design solutions were needed to accommodate the specialised medical equipment and laboratory gases, ensuring they are stored and managed safely. Our design also needed to cater for the equipment's fluctuating and demand-intensive power consumption.
Our approach
A careful design approach was required to accommodate the laboratory in a fully occupied commercial building that was designed for less intensive use.
The measures we used to address these challenges included using demand management software to constantly monitor the power supply needed by the building tenants.
To avoid exceeding the maximum demand limit of the tenancy and building, the software selectively shuts down the power supply to pre-selected discretionary areas of the tenancy (such as items backed up by batteries). Once power usage has subsided, the discretionary items are automatically reinstated.
As bioMérieux required non-office areas and operates 24 hours a day, there was a risk of compromising the entire site's NABERS rating.
To mitigate this, the base building services used in the non-office areas were metered to allow exclusion. Supplementary cooling required for the tenancy was prioritised in the areas operating afterhours, minimising the load on the base building equipment.
The benefits
Combined, these measures will minimise the impact the non-office areas and the tenancy have on the base building NABERS energy rating.
Our expertise and input supported bioMérieux in opening a clinical laboratory in a commercial building, while assisting the building owners to retain the site's operating efficiency and existing credentials.