Ringmer Pacific Management – Solar installation
Project management and design services
Benefits:
Greenhouse gas emission reduction of 105,548 kg CO2 year.
Energy output estimated to be 121,320 kWh/year.
Savings of $15,000–$17,000 per annum.
NABERS rating improvement from 4 to 4.5 stars.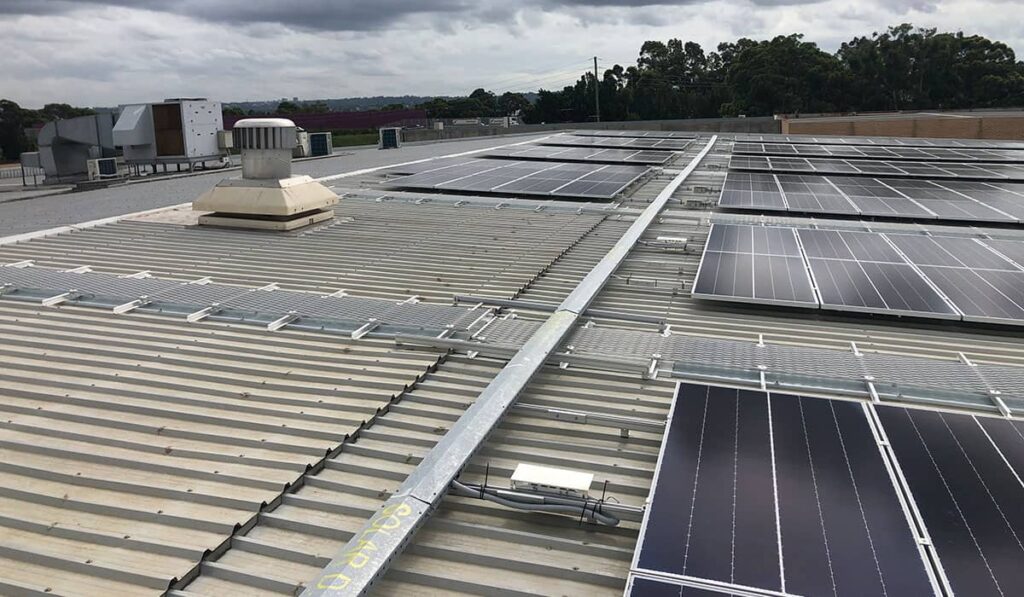 Project overview
Nutbrook Group was asked to provide project management and design services for a solar installation at 63 Parramatta Road. Site owners, Ringmer Pacific, made the request following our feasibility study of the site, confirming its ability to support the installation. The goal was to allow the building to continue functioning without interruption to its tenants, traffic and Ringmer's clients while a solar array and supporting electrical infrastructure was financed, designed, procured, delivered, installed and Commissioned.
Our approach
Our approach to the project was holistic, largely due to our project management and in-house design teams working closely and collaboratively. This ensured works were efficient, from design management, budgeting, consultation, tendering and construction right through to handover. We took a long-term view to the installations impact on the building, considering the operational life cycle of the building were monitored through the design and installation processes. With detailed planning and ongoing communications with all stakeholders, we ensured there was minimal disruption to tenants, traffic and businesses on and around the site.
The benefits
The installation included 246 Sunpower PV modules (507.5m2) located on one of the north-east are house roofs to provide a 99.63kWP system. The system size was determined based on the client's budget, site interval data and available area. The energy output of the system was estimated to be 121,320 kWh/year with a Greenhouse Gas Emission reduction of 105,548 kg CO2/year.1.
The system provided 6.7% electricity generation for the sites base building service. Although the site would have benefited from a larger system, the available roof space restricted increasing the system capacity.
Providing a system less than 100kWP, the client was able to take advantage of the government's Small-scale Technology Certificates (STC rebate), reducing the upfront cost of the system by approximately $60,000.
Based on the client's energy bills, the savings provided were estimated at around $15,000–$17,000 per annum. The commercial office space was within a precinct, therefore the roof of the warehouse next door to the commercial office was utilised to maximise the 100kWp system. Other than the switch over downtime, the commercial office tenants experienced no disruptions.